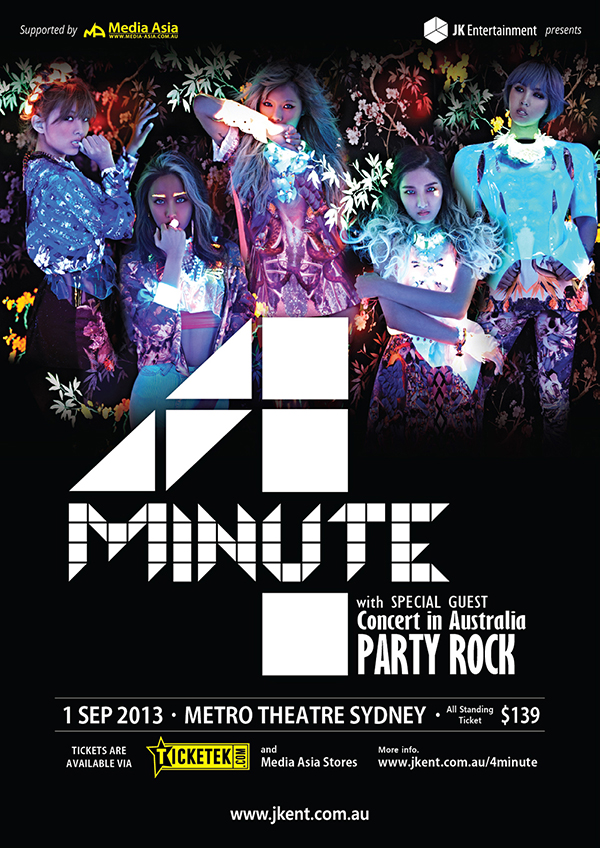 So if you're late to learn of this and haven't seen the light of day since last Thursday, then I need to tell you that 4minute are coming to Sydney!! This isn't Beast and please don't assume that the special guests are Beast or anything because I'm blogging about it here. I'm just blogging because I'm so excited to see them again and it's the first time I've been this excited for a concert in Australia since November 2011 because I didn't really care about other artists that have been coming down here.
But yeah! I'm so glad that I bought the official 4minute lightstick last week! Haha! I also have the official cheering towel that I bought last year or whenever they came out. I have many items - especially CUBE Family ones, that I buy "just in case I need them" and this is one of those times!! xDD
4minute are coming to Sydney to be guest judges for the Gangwon Cover Dance contest that will be held on September 1st at UNSW. This is a different contest to the ones that NU'EST judged last year, but it will be on the same campus.
I'm so damn glad that the concert is on a Sunday! Everything is always on a Saturday and I end up taking a day off work and lose a lot of money. Or end up having an exam and having to leave the exam early to get there on time OTL
Tickets have been on sale starting from today, you can get them via Ticketek or visit a
Media Asia
store to buy it in person.
You can get a $20 worth of vouchers for Media Asia when you buy your ticket from them. The vouchers come in $5 voucher and expire after 3 months. However, only one voucher can be used when purchase is over $30
The concert is only limited to 1,000 fans so get yours quick~!!! I've already got mine, hope to be seeing some of you there!
For more information and updates, check the
JK Entertainment
website, or follow
their Facebook page
or
Media Asia's Facebook page
.
P.S. I don't really need the discount vouchers from Media Asia. My friends need them so I'll give them their ones but I don't need them, so I was thinking about having a little
small giveaway
for my part of the vouchers if you guys were interested? Since it's for Media Asia, it would only be applicable to Sydney readers because it's useless to anyone else >< They expire
31st November 2013
. Leave a comment to let me know if you are interested ^-^